The Midas Gold Project located in British Columbia's Golden Triangle shares more than 40 km of contiguous claim boundaries with Aben Resources Ltd.'s ("Aben Resources") (TSX-V:ABN) Forrest Kerr Gold Project (the "Forrest Kerr Gold Project"). In addition, the Midas Gold Project contains tenures contiguous to Barrick Gold Inc.'s local property ("Barrick Gold") (TSE:ABX), immediately adjacent to the Forrest Kerr Gold Project. The project also located immediately north of projects owned by Garibaldi Resources Ltd. (TSX-V:GGI) and Colorado Resources Ltd. (TSX-V:CXO)
Highlights:
Positions MX Gold in the Golden Triangle.
Claims contiguous to properties of Barrick Gold and Aben Resources in the Golden Triangle.
Known Skarn style mineralization on western property containing
historic rock grab samples of up to 2.9 g/tonne gold (Minfile # 104B367) and 9.0% Copper (Minfile # 104B493).
Eastern claims overlie Hazelton Volcanics/Volcanoclastics.
The Midas Gold Project consists of 12 mineral claims structured into three tenure blocks. The district-scale project comprises a total of approximately 9,264 ha (~22,881 acres).  The project offers close proximity to the Essay Creek Access Road and the newly-constructed Alta Gas McLymont Hydro Power facility.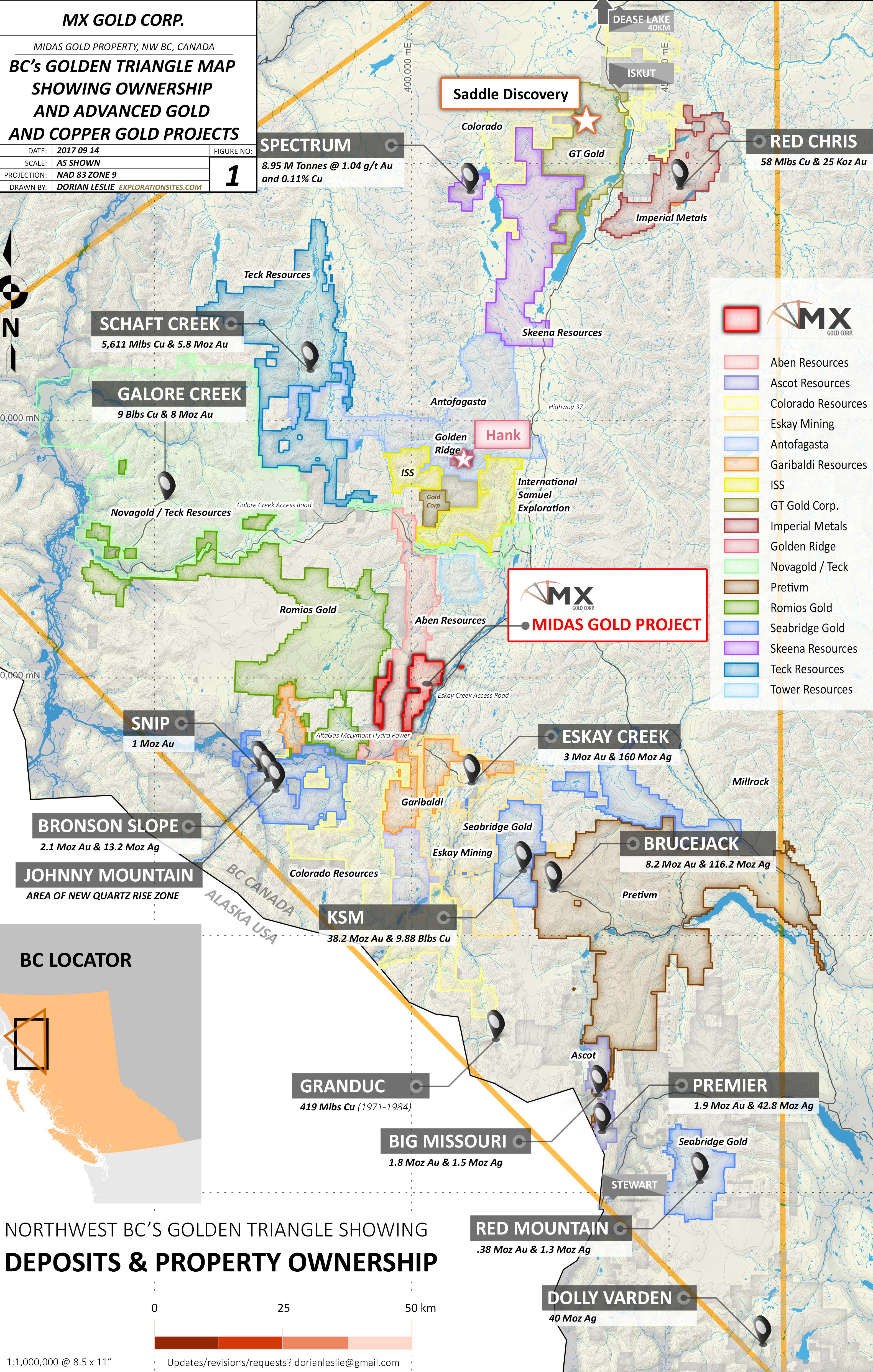 The Midas Gold Project also represents the largest claim package contiguous with Aben Resources' Forrest Kerr Gold Project which recently disclosed mineralogical similarities between sulphide horizons on their adjacent project to those of GT Gold Corp.'s (TSX-V:GTT) Tatogga Property (see Aben Resources news release dated September 5, 2017, Aben Drills Into Notable Mineralization at Forrest Kerr Gold Project, Golden Triangle, British Columbia).
The target environment at the Midas Gold Project is a volcanics setting (Stuhini Group and Hazelton Group Volcanics) known to host mineralization elsewhere in the immediate area.
The specific location of the Midas Gold Project is also of particular importance as it not only surrounds much of the Forrest Kerr Gold Project being advanced by Aben Resources, but it also contains significant tenure held in the past by Barrick Gold (the "Barrick Gold Area"). The Barrick Gold Area is of notable interest to the Midas Gold Project as it is situated in a comparable environment to the Carcass Creek and Boundary Zones recently drilled by Aben Resources; being both situated east of the Forrest Kerr fault structure and mapped within Hazelton Group volcanics, specifically the Hazelton Group volcanics. Receding glaciation within the Golden Triangle has opened new exploration opportunities and physical access not previously available under historic exploration activity.